The profession has expressed fears sheep wormer Zolvix could be overused or irresponsibly used after it was reclassified from POM-V to POM-VPS.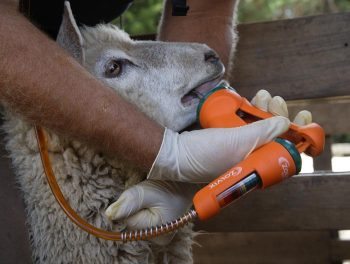 The VMD announcement was in agreement to a request from marketing authorisation holder Elanco.
This means the drench – which contains the active ingredient monepantel, belonging to the 4-AD or "orange" group of wormers – can be prescribed by pharmacists and SQPs, as well as vets.
"By expanding the categories of persons who can prescribe this anthelmintic, the VMD is making it more widely available," said the directorate. "Increasing the availability of this product is intended to facilitate its incorporation into strategic worm control programmes on farm."
In reaction, sheep health and production specialist and former Sheep Veterinary Society president Fiona Lovatt said, while not surprised by the news, she was "disappointed" on behalf of "all the sheep-keen practitioners out there".
She said: "As an industry, we need newer wormers to be used in a sensible and targeted way to prolong the longevity of the older groups of products and, up to now, they have not been used anything like enough to achieve this aim.
"However, we absolutely do not need them to be overused or used irresponsibly, and I am concerned this reclassification may increase this possibility."
'Extremely concerned'
The BVA, meanwhile – which previously called for all antimicrobials to be POM-V (VT43.07) – said the move was in "direct opposition" to Europe, where control was increasing over prescribing anthelmintics in species where resistance was a "serious threat".
Junior vice-president John Fishwick said: "We're extremely concerned we might start seeing resistance develop in group four as a result."
As a result of the reclassification, SQP regulator the Animal Medicines Training Regulatory Authority (AMTRA) is to roll out a compulsory training module for farm animal SQPs.
AMTRA secretary general Stephen Dawson said: "AMTRA is confident SQPs are well placed to prescribe Zolvix responsibly, but, as part of our periodic review of the SQP qualification, we have increased the breadth of the farm animal SQP qualification by a third.
The VMD backed AMTRA's view.
Read the full story in March 27 issue of

Veterinary Times

.