RSPCA investigators are looking for offenders who caused "horrific" garrotting injuries to a cat described as "a deliberate act of barbaric cruelty".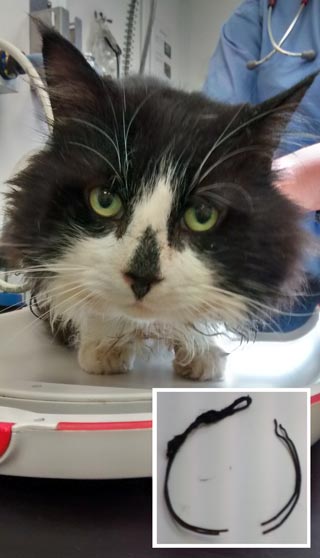 The cat, named Domino by his rescuers, had a double loop of rusty wire cutting deep into his neck, which vets estimate had been there between one and two months.
RSPCA inspectors described his wounds as some of the worst they had seen.
The cat, believed to be around four years old, was found in St Margaret's Avenue in Whetstone, London, and rushed to RSPCA Harmsworth Memorial Animal Hospital for urgent treatment.
Gaping wound
RSPCA inspectors are appealing for anyone with information about how Domino received his injuries to come forward.
Inspector Natalie Bartle said: "When I first saw Domino the first thing that struck me was the horrific gaping wound round his neck. It was so deep. It was awful.
"I could not feel a collar through his coat, but I felt something there and that is when I found the wire.
"Poor Domino was very grumpy, which was understandable as he must of been in agony for at least one or even two months.
"The smell from the wound was so overwhelming, I felt sick. I have never seen an embedding wound as serious as this on a cat. It was so upsetting. I rushed him to RSPCA Harmsworth and he was immediately sedated due to the seriousness of his injury."
Deliberate cruelty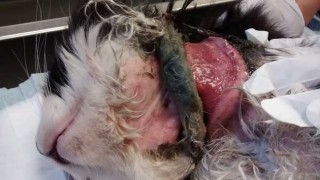 Inspector Bartle added: "I assisted the vet in shaving the cat's neck and that's when we saw the double looped rusty piece of wire all around his head. It appears this poor cat didn't get tangled in the wire, but it was a deliberate act of barbaric cruelty someone had inflicted on him.
"The nature of the wound showed this poor cat had been suffering for a long time. When he is up to it poor Domino is going to need a skin graft operation, as the wound is so extensive.
"We would really like to find the owner of this cat as someone must be missing him. We also appeal for anyone with information about who may have done this awful act to this poor cat to contact us on the RSPCA Inspectorate Appeal Line on 0300 123 8018."