ESFM Congress 2009 attracted practitioners from around the globe with its mix of practical advice sessions and social events, held in the Croatian town of Dubrovnik.
The combination of practical advice on feline emergency care supplied by world class speakers, twinne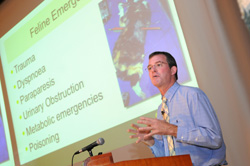 d with a sparkling Adriatic setting, proved to be a successful recipe for the European Society of Feline Medicine (ESFM) Congress held in Dubrovnik (June 19 – 21).
Twenty-six countries were represented by practitioners from as far afield as the US, Japan and South Africa. Nestling into the coastline with views over the sea, the Hotel Croatia tempted many of the 419 delegates to extend their stay for a few days well earned leave.
Scientific sessions were divided into sections covering a wide range of emergency care from head trauma to pain relief, and orthopaedic and soft tissue injuries to seizures and poisoning. Tim Hackett, Head of the Critical Care Unit at the James L Voss Veterinary Medical Center at Colorado State University, was the busiest of 10 world class speakers.
The ESFM Congress lived up to its friendly reputation with plenty of enjoyable social events. It kicked off with the Merial welcome beach barbeque – just a few steps from the hotel. There was evident enthusiasm on display for the Aqua theme party on Saturday night in the form of cascades of watery colours and characters – including mermaids, sailors and lifeguards. The evening ended with a magnificent lightening display and a great deal of 'aqua' falling from the sky – luckily delegates were safely in the dry by then!
Those unable to prolong their stay in Croatia made the most of their free Saturday afternoon to explore the delights of the local area. The ESFM Congress, 'Feline ER…accident and emergency in generalpractice', sponsors were Boehringer Ingelheim, Hill's, Merial, Bayerand Intervet-Schering Plough.
Don't miss out on the fun next year when the ESFM Congress will be held in Amsterdam with two themes – Feline Dentistry and Feline Pain Management. Full details will be posted on www.fabcats.org.