The spring issue of the free-to-read European Journal of Companion Animal Practice (EJCAP) is now available online.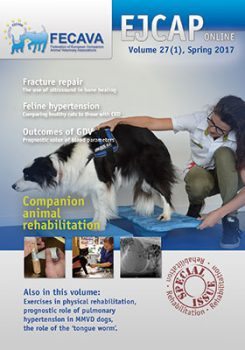 The official journal of the Federation of European Companion Animal Veterinary Associations (FECAVA) features a special focus on companion animal rehabilitation as well as interactive papers on:
You can also test your own knowledge with the interactive quizzes.
Podcasts
The issue includes two practical lectures from the highly popular "PowerPoint and podcast" series of BSAVA Congress 2016 lecture recordings:
The myth of "tongue worm" is debunked in a paper by Ana Faustino from Portugal, while the FECAVA news page presents the new working group on vector-borne diseases and the Didier-Noel Carlotti award.
Accessible to all
The issue also contains the quarterly review of apps (cardiology, tick prevalence and a handy scanning tool) of use for the small animal practitioner and books (on arthropod infections, veterinary anaesthesia and echocardiography).
EJCAP Online is published four times a year and is accessible to all veterinary practitioners, students and nurses in Europe and beyond, and is compatible for viewing on tablets.