Two teams of cyclists from Agria Pet Insurance have completed the exhausting 516-mile Extra Mile Challenge in France.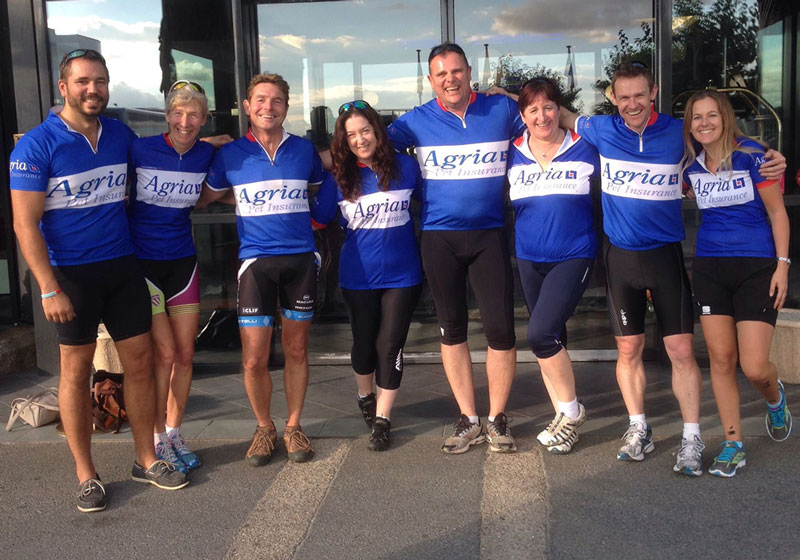 The teams exceeded their £2,500 sponsorship target for this year's chosen charities, Edinburgh Dog and Cat Home and Medical Detection Dogs, with a proportion also donated to the Extra Mile Challenge nominated charities.
They are close to raising £3,000, so Agria is keeping its fund-raising page open with the hope of achieving just that bit more for the charities.
It's the third year Agria has taken part in the Extra Mile Challenge – a tough, three-day route that this year saw 38 teams pedal their way from Le Mans, through the Alpes Mancelles, across the Loire Valley and finally on to the Monts Blond and Monts d'Ambazac.
Total elevations over the course reached almost 30,000ft.
The boys team, Agria Försäkens, was led by Agria's managing director Simon Wheeler, while the girls team, Agria Quadesses – the only all-female team taking part in the event – was led by five-time Extra Mile Challenge veteran, partnerships manager Lorraine Tannatt Nash.
"As we suspected, it was a very tough route, but beautiful too, with some stunning scenery and a fabulous team spirit to take our minds off the pain we were experiencing. The best thing was cycling in aid of two such incredible charities and we're so grateful to all our generous sponsors for helping us reach our fund-raising target," said Ms Nash.
If you'd like to donate and help reach that £3,000 milestone, visit www.virginmoneygiving.com/team/Agria-2015