Industry VN Lucy Millett pounded the streets of Portsmouth for a good cause – powered by jelly babies…
An industry VN is celebrating after completing the Great South Run and raising money for an assistance dogs charity.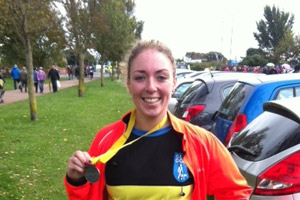 Lucy Millett works as a veterinary business development executive for supplement company Lintbells. She decided to tackle the 10-mile course around Portsmouth on October 28 2012 to raise money for the charity Guide Dogs, following her experiences from when she worked in practice and found herself nursing assistance dogs.
Lucy said: "Guide Dogs is a very worthwhile charity that really offers a lifeline to blind and partially sighted people, who rely on their dogs for so much.  
"Working in the veterinary industry, I have seen just how vital it is that these dogs stay as healthy as possible, and that's why I took on the challenge of completing the Great South Run to help their work to continue."
She added: "It was tough, but I'm really pleased to have finished."
According to Lucy, prior to the race her work colleagues joked she should be taking Lintbell's Yumove products to help her stamina. However, she relied on a bag of jelly babies to get her round on the day.
So far Lucy has raised more than £150 for Guide Dogs. To add a donation, visit her Justgiving page.