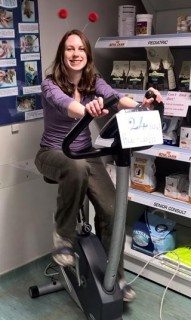 Veterinary volunteers at East Grinstead Veterinary Hospital raised more than £400 for Sport Relief by cycling the straight-line distance to Glasgow in a non-stop, 24-hour pedal-pushing marathon.
Staff even roped in one of their visiting drug company reps and the technician who came to service lab equipment to help pedal around the clock and rack up 578.5km on their static exercise bicycle during the gruelling charity event.
One in the eye
Other staff, nominated by donating clients, happily took a "cream pie" in the face or held bake sales to raise cash while the newest vet to the practice, Jake Ambridge, gritted his teeth to have his legs waxed to keep cash coming into the kitty.