A radioiodine unit for the treatment of hyperthyroid cats has opened in north-west Oxfordshire.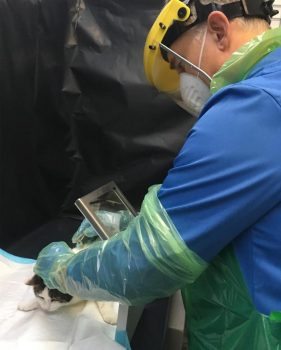 The unit, based at Chipping Norton Veterinary Hospital, now brings the number of such centres in the UK to 13.
Preferred treatment
Radioiodine iodine-131 (131I) therapy is regarded as the preferred treatment option for hyperthyroid cats.
However, the requirement for highly specialist treatment and facilities mean a select few hospitals offer it, as stringent environmental and human health and safety regulations mean the cat must be housed in a dedicated unit until its radioactivity level decays sufficiently for it to be sent home.
Martin Whitehead, a director of Chipping Norton Veterinary Hospital and an RCVS advanced practitioner in small animal medicine, has a special interest in hyperthyroidism.
SC injection
The treatment consists of a single SC injection of 1ml to 2ml of 131I, after which the cat has to be hospitalised until the radioactivity has reduced sufficiently.
The hospitalisation period varies across the country, but Dr Whitehead stated Chipping Norton's treatment time is 10 days. Others are longer.
Dr Whitehead said: "Radioiodine therapy is more commonly used in some other countries and, with hyperthyroidism being such a common disease and radiotherapy being the gold standard treatment, I'm really pleased to be able to offer it in the UK."