World Horse Welfare chief executive condemns abuses at one of the UK's biggest equine slaughterhouses.
World Horse Welfare has condemned abuses at one of the UK's biggest horse abattoirs.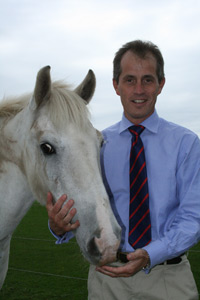 Chief executive Roly Owers described the treatment of horses at the Red Lion Abattoir near Nantwich as "disgusting, appalling and totally illegal" after watching a Sky News investigation aired over the weekend.
Mr Owers said: "What we have seen is a complete, systematic failure of the slaughterhouse to comply with UK welfare laws, and of the Food Standards Agency, which should have been enforcing the law, but clearly has not.
"We are now calling for all operations at these premises to be suspended until new procedures are put in place and the FSA guarantees the plant will comply with the law. We are calling for DEFRA to install and monitor CCTV in all English slaughterhouses to aid enforcement."
The revelations come as DEFRA is finalising arrangements to introduce new EU regulations to protect the welfare of animals at slaughter, which will  come into effect this summer.
Footage used in the programme showed horses being illegally slaughtered in groups of two or three and botched or incomplete stunning that appeared to allow some animals to regain consciousness before being killed.
Mr Owers added: "These practices are disgusting, appalling and totally illegal and they must be stopped immediately. Any chief government veterinarian would agree. There must be a full investigation and operations at this plant must cease until new procedures are put in place and the FSA guarantees full compliance with the law."