Welsh equine vets to take on small animal colleagues in tetrathlon to raise cash for children cancer charity.
Energetic equine vets at Abbey Equine Clinic in south Wales have thrown down the gauntlet to their small animal veterinary colleagues for a two-day sponsored tetrathlon.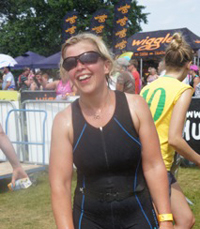 This tough challenge, comprising cycling, swimming, running and dressage riding, is to raise funds for the children's cancer charity CLIC Sargent.
The creative inter-practice contest, which will take place from August 9 to 10, was cooked up by Bryony Lovell-Williams, office manager at Abbey Equine Clinic, to turn the friendly rivalry between the small animal and equine sides of the business into a fun, fund-raising exercise for an extremely worthwhile cause.
Bryony said: "Having had personal contact with the charity, CLIC Sargent is very close to my heart. It gives families invaluable support throughout child illnesses, which helps them through very difficult times.
"Now we are doing as much as we can to help them in return. We have raised nearly £500 through sponsorship and prizes so far, but hope to raise more than that.
"My mum has also written a book called Under the Fountain in aid of CLIC and is producing associated activity packs for children's cancer wards."
The two teams of eight veterinary staff and a team of four veterinary sales representatives will be pitting their sporting prowess against each other with a 10k bike ride, a 400m swim, a 5k run and then a preliminary dressage test.
To sponsor the teams, telephone 01873 840069 or pick up a sponsorship form from an Abbey Vets branch.