Horse owners across Britain are being asked to register for the CARE study, which aims to unite the equine community and shed light on laminitis.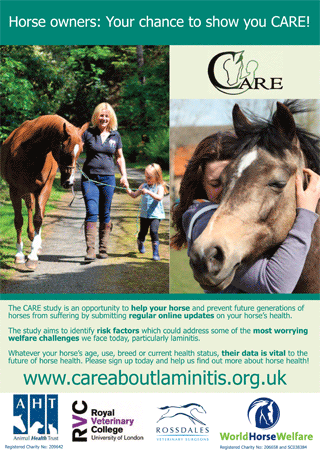 Undertaken by the Animal Health Trust and the RVC, the study is funded by World Horse Welfare and supported by Rossdales Equine Hospital.
CARE is the first and largest web-based equine cohort study in Britain. Cohort studies have been extensively used in human medicine and are responsible for important findings linking lifestyle factors to the risk of developing certain diseases.
Collaborative effort
The CARE study's mission is to determine how common laminitis is and which equine lifestyle factors affect its development, and PhD student Dee Pollard is urging horse owners to get involved ahead of CARE day on 10 February.
She said: "We need a collaborative effort by all horse owners, professionals and researchers to both increase awareness about laminitis and, in time, help make early recognition of laminitis less deceptive.
"On national CARE day, we are calling on everyone involved in the equine world to join us in sharing our images and video on their website and social media, encouraging all of their friends and supporters to register for CARE."
Get involved
CARE members submit regular information about their equines' health and management online. The initial baseline questionnaire covers all aspects of the horse's environment, activity, nutrition and daily care. Following this, members are asked to check-in on a regular basis and, if required, update these details. They also have access to an online weight tracker to monitor their horse's weight and body condition.
Owners of almost 1,500 horses and ponies have signed up to CARE, but a further 1,000 are needed. Their contribution will improve the welfare of horses throughout Britain and help stop laminitis.