Vets and Suitably Qualified Persons (SQP) are being advised to remind their clients it is time to treat their horses for encysted small redworm (ESRW), if they haven't yet done so this winter.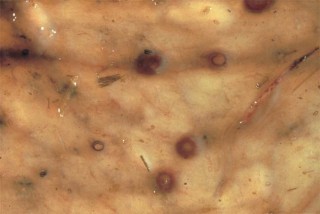 Moxidectin is the only licensed active for single-dose control of ESRW and is contained in two products – Equest and Equest Pramox from Zoetis. However, a survey shows some owners are using the wrong products and putting their horses at risk.
No definitive test
ESRW are the early stages of the small redworm enveloped within a fibrous capsule in the mucosa of the large intestine.
In some animals, encysted early L3 larvae enter a period of hypobiosis and these inhibited stages are thought to play an important role in the development of subsequent clinical disease.
There is no definitive test for ESRW and, since egg-laying adults may not be present, a negative or low faecal worm egg count does not rule out the presence of encysted stages. Mass emergence of encysted larvae, often coinciding with warmer environmental conditions in the early spring, may cause a condition known as larval cyathostominosis, resulting in diarrhoea and colic, with a 50% mortality rate.
Every horse should receive an annual treatment to combat ESRW, ideally during November/December and certainly before spring arrives.
Proactive advice needed
It's imperative the correct wormer is used, but one in three horse owners are still struggling to get it right.
The 2015 National Equine Health Survey showed only 64% of those who specified how they treated for ESRW had correctly used a wormer containing moxidectin and 7% had used fenbendazole.
However, of the remainder, 22.5% had incorrectly used a wormer containing ivermectin, which does not treat for encysted stages, and 6.3% had used products licensed for tapeworm only.
Wendy Talbot, veterinary surgeon at Zoetis, said: "The results of last year's National Equine Health Survey are worrying. They strongly indicate horse owners need proactive advice from their vet or SQP to ensure they use a product licensed to treat ESRW at the right time of year."