An 18-year-old man from Guildford has been banned from keeping horsesfor two years after he pleaded guilty to failing to provide veterinarytreatment to a pony with a "horrific" eye injury.
John Jones (Junior) from The Hatchingdon in Worplesdon, appeared before Guildford Magistrates Court on June 25, where he was also ordered to pay costs of £2,500 and carry out 100 hours of community service.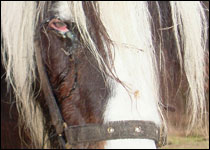 Equine charity World Horse Welfare (WHW) was alerted to the plight of Mr Jones' pony by a member of the public on February 25.
Field officer Ted Barnes investigated and found the six-year-old tri coloured mare tethered on Rickford Common, Guildford. The pony's right eye was badly injured and oozing green pus so Mr Barnes contacted RSPCA Inspector Rob Jackson and vet Debbie Watson, who examined the pony and discovered that her right eyelid was completely missing.
The pony was very fearful of people, clearly distressed and in terrible pain. She was immediately taken away for treatment where vet John Baart found her eye was badly ulcerated possibly as a result of a penetrative injury. He estimated that the pony had been allowed to suffer for at least 21 days and recommended that her right eye be completely removed. The operation, which cost £2,300 was funded by the RSPCA and after a period of recovery she was taken to WHW Glenda Spooner Farm in Somerset where staff named her "Panda".
WHW field officer Ted Barnes said: "This was one of the most serious physical injuries I have ever seen on a horse and I hope I never see suffering like this again.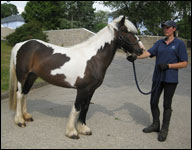 "Panda's future is secure as she was signed over to us prior to the case going to court and she is now starting to respond to the care provided by World Horse Welfare staff. Hopefully it won't be long before we can find her a caring new home."
Would you like to help World Horse Welfare help more horses like Panda? Visit www.worldhorsewelfare.org to find out how you can become a member, make a donation or rehome a horse.