Research has found elastic resistance bands can increase dynamic stability of horses in trot – and prevent, or treat, lameness and back problems in equines.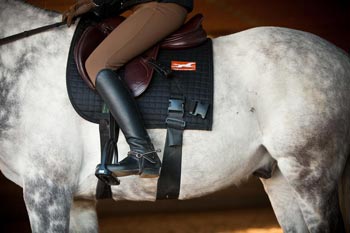 The work, by RVC scientists and others, analysed the effects of a four-week exercise programme, which was devised with the use of the elastic band system, on the movement of seven privately owned riding horses' backs.
Statistical model
The exercise programme involved the use of a modified saddle pad to which two elastic bands (the hindquarter band and the abdominal band) were attached using buckle clips, with the bands fitted at 30% tension.
A statistical model was used that investigated the effect of band usage, the effect of time, as well as whether the horse moved in-hand or on the left or right rein on the lunge.
Back movement parameters were calculated from a total of 3,215 strides (25 to 89 strides per condition) at the two times points (week one and week four), with and without the use of the exercise bands.
Positive reports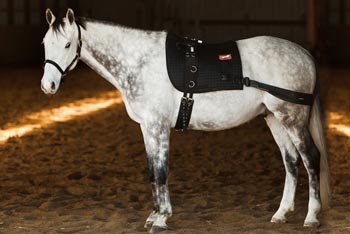 The riders reported a greater "stability of movement" when the elastic bands were used. This was reinforced by the research, which found when using the bands, less roll (rotation around the forward-backwards axis) and pitch (rotation around the left-right axis) was present at the level of the lower back, as well as less left-right movement in the mid thoracic and lumbar regions.
Easy to use
Thilo Pfau, senior lecturer in bio-engineering at the RVC, said: "Until now, there has been little supporting evidence on the effect of training and rehabilitation programmes in preventing and/or treating lameness and back problems in horses.
"The system we tested is easy to use during the normal exercise routine of a horse, meaning it can be applied to horses of any discipline.
"It also takes very little time to apply to the horse, considering all it entails is attaching the bands to a modified saddle pad, and it can be used during ridden exercise."
The researchers are now encouraging future studies to directly measure muscle activity to improve understanding of the underlying mechanisms involved in providing increased dynamic stability.