Veterinary surgeons who received RCVS Trust grants were amongst thosecatching up with their peers at the RCVS Trust Summer Reception held in the Library at Belgravia House, London, on June 25.
Almost fifty guests attended the annual event, where the guest of honour was Lord Ballyedmond, chairman of Norbrook Laboratories, who has been a major sponsor of the Trust Library since 2003.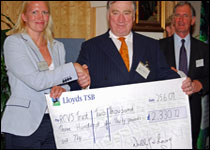 Guest speaker, Rachel Tarlinton, who received an award of £17,138 to carry out research into canine endogenous retrovirus and cancer, spoke to the visitors about her project and the importance of supporting research.
As the trust's vice-president, Lord Ballyedmond received a cheque for £2,330.72 from Noelle Lowry, an equine vet from Lichfield, Staffordshire – sponsorship she raised by running in the London Marathon in April.
RCVS Trust director Cherry Bushell said: "The evening was a great opportunity for grant recipients to get to know each other and share their experiences, as well as giving us a chance to be able to thank our supporters and trustees for their time and guidance without these volunteers we simply wouldnt exist."