Drug giant donates its 1000th dose of 'flu vaccine Proteqflu, to Riding for the Disabled.
Merial has just made its 1,000th donation of equine 'flu vaccine to Riding for the Disabled Association (RDA).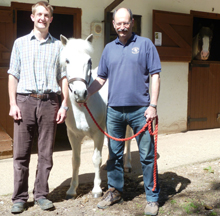 Pictured at the RDA's Hampshire-based Broadlands Group is vet Charlie Mitchell, of Cedar Veterinary Group (left), with chairman Nigel Hoppitt, and recipient of the latest dose of ProteqFlu, Mutley the Pony.
According to Mr Hoppitt, such support is vital for the organisation. "We've been fortunate to have received free 'flu vaccines from Merial since 2011, saving us a small fortune," he said.
"Charlie looks for opportunities to keep the ponies healthy, in work, and costs down, which is a huge help.
"The RDA is all about the ponies; we are totally reliant on them so they need to be fit and healthy all the time, and vaccination takes away one of those worries. We have 8 ponies, so it all adds up. They are both our biggest asset and the largest cash drain," says Mr Hoppitt.
"We invest a huge amount of time and money training the ponies, so it's vital to have them for as long as possible. We don't want to lose them – either temporarily or permanently. If they are unwell, someone misses out," he adds.
Ed Bracher, RDA chief executive, added that raising funds to keep horses healthy was difficult in today's climate. He said: "The support we receive from Merial is absolutely incredible and this is a really significant milestone.
"This kind of support is vital both in terms of keeping the horses fit for purpose and allowing our volunteers to concentrate on delivering the service to people with disabilities. So we are incredibly grateful for this support – thanks Merial."