Moredun Research Institute and Scotland's Rural College receive £700,000 from the Biotechnology and Biological Sciences Research Council for "early warning system" project.
The Moredun Research Institute (MRI) and Scotland's Rural College (SRUC) have received £700,000 from the Government to develop a project that could "ultimately lead to an early warning system for poor health and welfare in dairy cattle".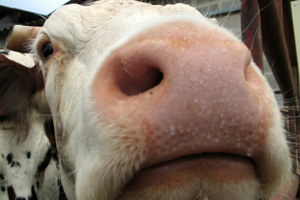 The funding from the Biotechnology and Biological Sciences Research Council (BBSRC) is to be used by the two institutions to further initial work that found "easily recordable immune traits" – such as lameness, white blood cell levels and inflammatory markers in the blood – could be used to predict an individual farm animal's susceptibility, and recovery from, a range of health conditions.
The two organisations believe identifying such traits could be of "huge benefit" to the cattle industry as they can be used to measure and monitor the health challenges faced by dairy cows as well as help develop prediction and prevention tools that could help reduce the incidence of ill health.
SRUC project leader Eileen Wall said: "Health and fitness traits are a key requirement for the development of selective breeding programmes and research in this area is lacking, largely due to the difficulty of recording complex traits such as lameness and mastitis in large populations of animals. We are very excited about the prospect of using easily measured immunological traits that may allow us to predict an individual's susceptibility to a variety of health and welfare challenges."
Investigator at the MRI Tom McNeilly said: "This study represents the largest simultaneous analysis of multiple immune traits in dairy cattle to date and demonstrates that a number of immune traits are associated with health events and can be associated with susceptibility to diseases such as mastitis and lameness."
Meanwhile, BBSRC's director of science Melanie Welham said: "As pressure increases on producing more food for a growing global population on less land, we need to ensure the highest welfare standards of the animals we farm.
"We need projects such as this to develop a thorough understanding of what constitutes good animal welfare and to develop accurate tools for measuring it."