Veterinary professionals hoping to reward "proactive and passionate" VNs by nominating them for the Golden Jubilee award 2016 are being urged to do so before the closing date of 29 January.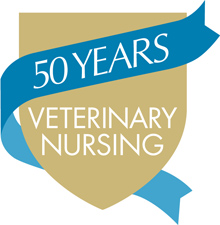 Organised by the RCVS, the award was created to recognise individuals who have taken on leadership roles and are "pushing forward" the veterinary nursing profession – whether clinically, politically or in terms of raising public awareness.
Rewarding passion
VN Council chairman Liz Cox said: "Nominees for the award must be people who are proactive and passionate in campaigning on behalf of the profession and who are taking on an ambassadorial role for it; for example, speaking about current issues and initiatives at congresses, events or with local or national media.
"If this sounds like someone you know, then please don't hesitate to put them forward for the award and help raise the profile of the profession even further."
Nominating
Although nominees must be veterinary nurses, the primary nominator can be either a veterinary surgeon or VN and the two supporting nominators can be laypeople.
The award will be made at RCVS Day, the college's annual meeting and awards day, in July.