The Bella Moss Foundation (BMF) is kicking off its 10th year by revealing a new app at BSAVA Congress, along with a host of new infection control materials.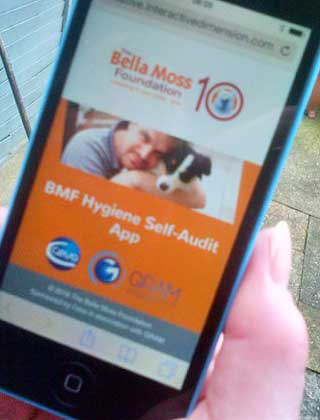 The charity has teamed up with Ceva Animal Health to create a downloadable app version of its online practice audit tool.
The online quiz, devised by vet and VN infection control experts Louise O'Dwyer, Pam Mosedale, Tim Nuttall and Chris Laurence, allows staff to rate the hygiene protocols across every area of their practice, resulting in a room-by-room percentage hygiene score, as well as an overall contamination risk score.
The app will soon be available on Android and iOS systems so vets and nurses can have the tool instantly to hand, and on any device. The audit tool will also remain online at the BMF website.
Infection control
BMF founder Jill Moss said: "For the past 10 years the BMF team – staffed solely by volunteers and industry experts – has tirelessly strived to raise awareness of antimicrobial resistance and make infection control a more engaging and fathomable topic – both for the veterinary profession and the public.
"While we all know how important infection control is, sometimes the basics get forgotten in a busy practice environment. Now, with our free audit app in your pocket, implementing good hygiene processes could not be easier – so there's no excuse.
"We are thrilled to have teamed up with Ceva to create this new super-accessible app version of our audit tool and want to encourage as many practitioners as possible to come and try it out, so please come and visit us in Birmingham for a chat about all our great infection control resources for practitioners and pet owners.
The audit app will be available for delegates to try throughout congress at the BMF stand in the ICC and on the Ceva stands in the Barclaycard Arena. It will then be made available to download from various online app suppliers post-congress.