The Blue Cross animal charity, with support from Fort Dodge AnimalHealth, has awarded its 100th equine healthcare package to supportcompanion horses and ponies homed via the charitys loan scheme.
The Blue Cross healthcare package was introduced four years ago to help encourage existing horse owners to give a home to a companion. Perceived by some as a poor relation to riding horses, companions can actually play an important role.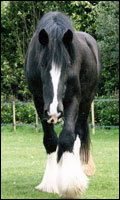 Horses are social animals and companions can provide vital friendship for a single riding horse. They can also have a positive influence on the behaviour of other horses, particularly youngsters. The charity often uses older, retired horses and ponies as nannies for youngsters at the charitys rest and retirement centre at Northiam (East Sussex), with great effect.
The 100th package, which covers the costs of routine innoculations and an annual veterinary health check, as well as providing wormers, has been providing support to Blue Cross Alice, a 17hh Shire mare.
Kate Gloyn, Blue Cross equine deputy centre manager at Burford said: "We are very grateful to Fort Dodge for continuing to provide wormers for our equine healthcare package.
"The scheme is proving to be very effective in helping to secure loving homes for many of our special companion horses and ponies, while giving new borrowers welcome assistance with day-to-day healthcare costs."
Helen Barnes, equine business manager for Fort Dodge in Europe, said: "The work of The Blue Cross is even more important in the difficult economic conditions many horse owners are experiencing today. We are delighted to continue our long history of support for the charity."
The Blue Cross would like to hear from those with the knowledge and the facilities to take on a companion horse or pony and give them a second chance in life. Anyone providing homes through the charitys monitored loan scheme will be provided with free annual vaccinations and a routine health and teeth check for each Blue Cross horse.
For more information please visit www.bluecross.org.uk/horses or call 01993 822454.