The UK's first hyperbaric veterinary medicine chamber has been acquired by Fitzpatrick Referrals Orthopaedics and Neurology.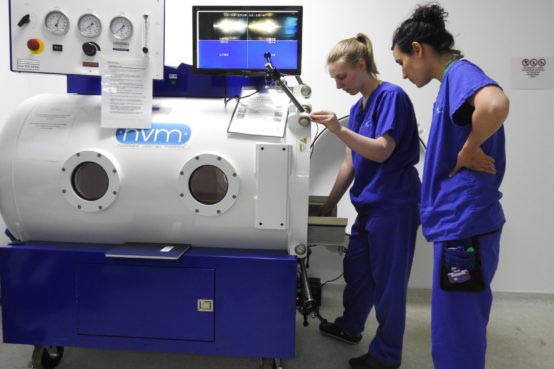 Following some interesting results from the US – the Eashing-based team will be evaluating the efficacy of hyperbaric oxygen therapy (HBOT) in tissue healing and reconstruction, as well as other novel treatments.
In the human orthopaedic field, HBOT has been used to treat non-union fractures and osteoradionecrosis and to support the incorporation of bone grafts.
Encouraging results
Noel Fitzpatrick, founder and managing director of Fitzpatrick Referrals, said: "I have seen hyperbaric oxygen therapy produce encouraging results in America for a range of orthopaedic, neurologic and wound-associated conditions.
"At Fitzpatrick Referrals we are committed to providing optimal treatment options for each and every animal entrusted to our care. We have, therefore, welcomed HBOT as an adjunct to our existing therapeutic modalities for specific indications.
"We are enthusiastic about the potential and look forward to sharing our outcome results in an evidence-based fashion as we move forward. Our core ethos is to provide all of the options for all of the animals all of the time, and the addition of HBOT as part of a customised care package for our patients adds an exciting new dimension."