A Hampshire-based suitably qualified person (SQP) has become the first SQP to pass the avian module from AMTRA, making her the first avian-qualified SQP in the country.
A Hampshire-based saddlers has become the first to benefit from having an avian-qualified suitably qualified person (SQP) working at the store.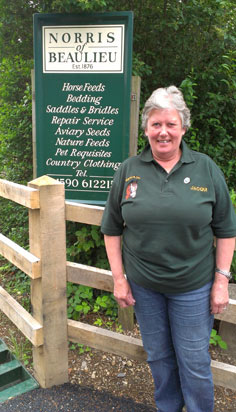 Jacqui Lowth, who works at Norris of Beaulieu, is the first SQP to pass the Animal Medicines Training Regulatory Authority's (AMTRA) avian module, which was launched in February this year.
The module, which covers husbandry, anatomy and disease recognition for most species of domestically kept birds, is available as an "upgrade" for qualified SQPs or a separate course for those new to supplying animal medicines.
Jacqui told Vetsonline: "I really enjoyed the one-day course. I then went away to study for two weeks before taking the exam."
According to AMTRA, the avian module was developed partly in response to the rapid growth in the number of people keeping backyard poultry, and the subsequent demand for bird health information and medicines.
"That's certainly one of the reasons that I decided to study the module," said Mrs Lowth. "Our business has changed slightly and poultry is one of our biggest growing markets. I now have the skills and knowledge to give bird-keeping customers the very best help and advice to keep their stock in good health.
"I also keep poultry myself – two dozen buff Orpington and pekin bantams – so the module has certainly proved useful in terms of helping me to keep them in tip-top condition."
On the qualification, Stephen Dawson, AMTRA secretary general, said: "The module is designed to meet demand from SQPs as well as people who are just beginning their involvement in supplying medicines for this sector."
Mrs Lowth is now a EA-SQP as she is also qualified to prescribe and supply equine and companion animal VPS medicines.
The module is currently available for home study with exams being held around the country. AMTRA says further supportive training courses will be available in the near future.
Visit www.amtra.org.uk or email info@amtra.org.uk for more information.