Little Belle, born in May to parents Karin and Myse, hailed as a "significant step" in Highland Wildlife Park's muskox programme.
The first-ever baby muskox born at Highland Wildlife Park in Kincraig, Inverness-shire, has started to venture out into her outdoor enclosure after spending her first few weeks of life off-show with her mother.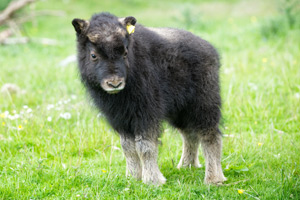 Little Belle, who was born to mum Karin and father Myse in May (2013), is hailed as a "significant step" in the park's muskox breeding programme and is also the first muskox to be born in the UK in 17 years. The last muskox born in the UK in 1996 died after one day. Prior to that, the last muskox calf to survive was born in 1992 at Whipsnade Zoo.   
Head of living collections at the park Douglas Richardson said: "Although strong and fairly belligerent, the muskox is a very challenging species to manage well, especially when it comes to breeding and infant survival. The adults are pretty robust, but their offspring can easily become ill from a wide variety of causes.
"Our success to date with Belle gives us a good indication our husbandry and preventive medicine regime are on the right track. The last time there were muskox in Scotland, at least since the last ice age, was when a couple of animals were brought from Greenland to Edinburgh Zoo in the 1920s. These animals did not breed, so it is very pleasing that the subsequent attempt, a mere 85 years later, has already proven to be successful."
According to keepers at the park, Belle will soon grow into a muscular, impressive animal despite her dainty appearance. Muskox are also renowned for their aggressive and destructive nature, so Belle and her family reside in a specially designed enclosure at the park.
The muskox is an Arctic species, found in tundra ranging from Alaska and Canada to Greenland and Russia. During the 19th and 20th centuries, however, the mammals were hunted for their meat and fur to the point of localised extinction within Alaska and Russia. They have since been successfully reintroduced to these areas, but climate change continues to put pressure on the species.
For more information on the park and its muskox programme, visit the park's website.