Petplan Equine, one of the UK's leading horse insurance providers, has announced the three finalists for the second annual Petplan Equine Vet of the Year Award 2009.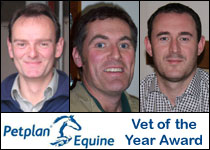 The winner of this new and prestigious people's award will be announced at the glittering 21st Animal Health Trust (AHT) Equestrian Awards ceremony to be held at London's Royal Lancaster Hotel on the evening of November 5. The finalists are:
Alan Hough

, who worked in The New Forest

Gil Riley

of Pool House Veterinary Hospital, Lichfield, Staffordshire

Ed Lyall

of Arundel Equine Hospital, Arundel, West Sussex
Horse owners from all over the UK nominated their vets as those who they felt had gone above and beyond the call of duty. The short list of three finalists was then drawn up and the winner will be selected by an independent panel consisting of Peter Webbon (AHT chief executive and equine vet), Alison Bridge (editor-in-chief of Horse & Rider magazine), Chris House (BEVA president) and Jo Whitaker (marketing development manager for Petplan).
Jo Whitaker said: "It has been incredibly difficult choosing just three finalists out of all those entered. The nominees this year have all been truly deserving and have shown outstanding devotion to their profession. We have all felt very humbled as well as delighted by the stories we have been sent."
The Animal Health Trust Equestrian Awards are designed to recognise the outstanding achievements made by horses, riders, owners and trainers throughout the equestrian world and once again there have been some remarkable individuals among the nominees for the Petplan Equine Vet of the Year Award. Since the Petplan Charitable Trust was founded in 1994 it has raised over £5million, almost £500,000 of which has been donated to the AHT to fund research and development.
The winner will be posted on www.petplanequine.co.uk on November 6.
__________

Alan Hough, MVB, GPCert(Eq), MRCVS, grew up in the West of Ireland and was on the back of a horse at the age of five. His life from then on revolved around horses and as the son of a vet he would go out on calls with his father whenever he could.
Alan went on to study to become a vet at University College Dublin and qualified in 2005. He then went on to work in a mixed practice in South Devon until 2007 when he moved to the equine team of a practice in The New Forest.
From summer 2009 Alan has been a locum in various practices to generate enough income to open his own equine practice, hopefully next year. Alan was awarded the General Practitioner Certificate in Equine Practice this summer and is enrolled to site the British Association of Equine Dental Technicians examination in 2010/2011.

Gil Riley works for the Pool House Veterinary Group and Equine clinic in Lichfield, Staffordshire. He is jointly responsible for the Equine Practice having joined the practice to expand his equine skills after working in a mainly agricultural practice in Wales. Gil has subsequently been awarded the Royal College of Veterinary Surgeons Certificate in Equine Practice.
Gil is particularly interested in lameness and laminitis. In 2008 he was the British Team Vet for the World Singles Driving Championships in Poland and has recently been asked to become an examiner for The Worshipful Company of Farriers.

Ed Lyall, B Vet Med Cert EM (Stud Med), MRCVS, works for The Arundel Equine Hospital, West Sussex. Ed was born in North Yorkshire where he grew up at an equestrian centre run by his parents. From a young age he was exposed to most aspects of the equine competition horse world and became interested in stud medicine as his parents stood stallions at stud.
He graduated from the Royal Veterinary College, London University in 1994. Ed Joined the Arundel Hospital in 1995 and was made a partner in 2002, he attained his Certificate in Equine Stud Medicine in 2000 and became and RCVS examiner in the subject in 2007. A lot of Ed's time is taken up with all aspects of sport horse management and he works closely with riders to enhance the performance of their equine athletes.