The shortlists has been revealed for the seventh annual Ceva Animal Welfare Awards.
Celebrating the achievements of remarkable people from the veterinary, charity and farming industries, the awards recognise those who go beyond the call of duty to better the lives of animals around the world.
Nominations were submitted by friends, family, clients and colleagues.
Panel of judges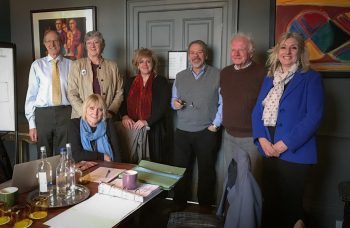 Spanning seven categories, the shortlist for each award was decided by a panel of judges chaired by retired veterinary surgeon, Chris Laurence MBE.
Dr Laurence is the chairman of the Animal Welfare Foundation and British Veterinary Behaviour Association and, before retiring, was chief veterinary officer at the RSPCA and veterinary director of Dogs Trust.
He said: "Judging gets more difficult each year as we receive more nominations and they get even more impressive.  It is humbling to witness the huge number of people who give their lives to animal welfare to the detriment of better paid jobs or simply going out and enjoying themselves."
The shortlists:
Chris Laurence Vet of the Year Award
in association with Veterinary Times
Andrew Gardiner from Royal (Dick) School of Veterinary Studies
Richard Saunders from the Rabbit Welfare Association and Fund
Jenny Stavisky from The University of Nottingham
Welfare Nurse of the Year Award
in association with VN Times
Sarah Dawson from Vets4Pets, Walton Vale, Liverpool
Samantha Shand from Quarrington Veterinary Surgery, Sleaford
Ellisah Raven from Bransby Horses, Lincoln
Charity Professional of the Year Award (UK & International)
in association with PDSA
Lesley Winton, founder of the Winton Foundation for the Welfare of Bears and its "Fostering Compassion" programme
Stephen Blakeway, director of international operations at The Donkey Sanctuary
Ali Taylor, head of canine behaviour and training at Battersea Dogs and Cats Home
Charity Team of the Year Award (UK & International)
in association with Your Cat and Your Dog magazines
Mission Rabies
Mitchelson Found Animals Foundation
Dogstar Foundation, Sri Lanka
Volunteer of the Year Welfare Award (UK & International)
in association with Blue Cross
Maureen Smith from the National Animal Welfare Trust, Berkshire
Annie Blumenfeld from Wags 4 Hope, US
Dean Bland from Well Equine, Yorkshire
Farm Animal Welfare Award (UK & International)
in association with RABI and NADIS
Joseph Othieno, a freelance veterinary journalist from Kenya
Katrine Bazeley, a retired veterinary surgeon from Dorset
Graham Duncanson, a retired veterinary surgeon from Norfolk
Special award
In addition to the scheduled categories, the judges have granted one additional award in special recognition of a charity's ongoing commitment to animal welfare.
Further, International Cat Care will be choosing the winner of the International Cat Care Welfare Award (in association with Agria Pet Insurance) from its extensive membership base. All winners will be revealed and presented with their awards at a ceremony held in Birmingham ahead of BSAVA Congress on 5 April 2017.