The RSPCA has given their highest accolade, the Richard Martin Award,to Jemima Harrison for her BBC One documentary, . It is the first time the Award has been given to a film-maker.
Pedigree Dogs Exposed, which was seen by an audience of four million in August 2008, highlighted health and welfare problems in pedigree dogs and led to the BBC suspending its coverage of Crufts after more than 40 years.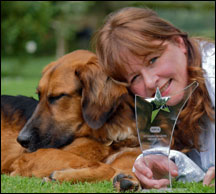 The programme also led to the RSPCA, Dogs Trust and the PDSA pulling out of the event and three major reviews of dog-breeding in the UK. Soon after the broadcast, and in the face of continued pressure, the Kennel Club announced a raft of changes, including the revision of many breed standards and the banning of mother-to-son, father-to-daughter and sister-to-brother matings.
RSPCA chief executive Mark Watts said: "Jemima's commitment ensured the programme was completed, often in the face of abuse from hostile individuals and groups, and the impact was enormous, igniting a ground-breaking debate about pedigree dog welfare."
The citation reads: "To Jemima Harrison, for her commitment to the welfare of pedigree dogs."
Pedigree Dogs Exposed was commissioned by Richard Klein. Executive producer was Eamon Hardy for the BBC. Miss Harrison and her cameraman partner Jon Lane made the film through Passionate Productions, which they run from their thatched cottage in rural Wiltshire. The couple has five dogs of their own, a mix of pedigree and crossbreeds.
Miss Harrison, who is currently working on related projects, said: "We're the tiniest independent on the planet, and we're very proud of what we have been able to achieve with Pedigree Dogs Exposed."