A ferret that got stuck in metal railings has been freed after being attended to by a team of vets, firefighters and RSPCA inspectors.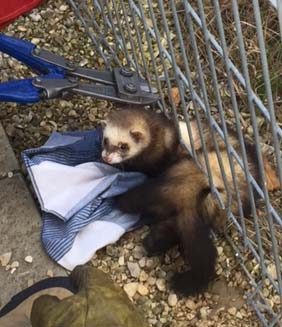 The unfortunate ferret, which got itself trapped in Ossett, West Yorkshire, had to be cut out by firefighters. Still attached to the section of mesh, the animal was given the name Whoops and taken to Abbey House Vets in Morley.
RSPCA inspector Charly Wain said: "Once we arrived, the veterinary team started untangling Whoops, but after getting him out of one hole, it became clear he was firmly stuck in the rest.
"After sedating him, they finally managed to cut him free. He was given some pain relief, but now seems absolutely fine."
Unusual situation
Vet Laura Smith, who treated Whoops, said: "This was such an unusual situation – I've never seen anything like it. I think Whoops had gone through the fence and got stuck, but instead of backing out, he had turned and gone the other way, becoming even more stuck."
The ferret, a neutered adult male, is in good health and thought to be a stray as no one has come forward to claim ownership of him. He has been taken to South Cheshire Ferret Rescue, where he is now looking for a home.
To find out more about rehoming Whoops, visit www.southcheshireferretrescue.co.uk