Cats Protection says a lack of pet owners getting their cats neutered at four months has led to its centres being "inundated" with unwanted kittens this summer.
Feline charity Cats Protection is calling on pet owners to get their cats neutered earlier than usual after it was inundated with thousands of unwanted kittens this summer.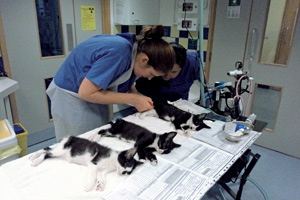 The charity – which helps more than 218,000 unwanted cats each year – is urging owners to neuter their cats at four months of age rather than the traditional six months, as this, says the charity, is when cats reach sexual maturity.
The call comes after a recent survey of more than 1,000 cat owners carried out by the charity found just 4% neutered their cat at or before the recommended four months.
 
The charity takes in thousands of unwanted or abandoned kittens that are the result of unplanned breeding, it says, so it is keen to make cat owners aware of the need to neuter.
 
Cat Protection's neutering manager Jane Clements said: "Getting the neutering message across is proving to be a very tough hurdle for cat welfare because our research shows the vast majority of people are still not neutering their cats early enough to avoid unwanted litters of kittens.
 
"Without neutering, the UK's cat population quickly gets out of control and each summer we are overwhelmed with kittens in need of homes, so it is vital people ensure their cats are neutered at the correct age to prevent unwanted litters."
 
While the lack of early neutering was a problem found across Britain, the charity's survey revealed the Yorkshire and central areas are the least likely to neuter at the recommended age, both with only 1% of cats neutered at or before four months.
 
In its own attempt to combat the issue, Cats Protection is planning to open a new homing centre later this year in Leeds. The charity is also embarking on a large-scale neutering campaign in north Birmingham, which it is hoped will raise awareness of the issue in the area.
The charity also runs a national register of veterinary practices that carry out neutering at four months of age or earlier.
To search the list or to register your practice, visit Cats Protection's website.
Image © Cats Protection