The US Food and Drug Administration (FDA) has outlawed the use of all powdered surgeon or patient examination gloves for veterinary and human use in the United States.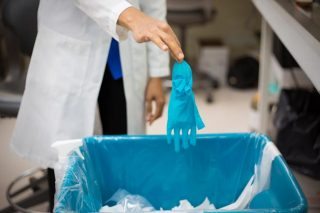 The agency maintains the powder can, in some instances, cause "severe airway inflammation, hypersensitivity reactions and allergic reactions" and are instructing vets to dispose of all stocks.
'Unreasonable risk'
Absorbable powder for lubricating a surgeon's glove is also banned, as it is deemed to present "an unreasonable and substantial risk of illness or injury".
The FDA rejected comments that non-powdered gloves were more prone to tearing. It also rejected claims donning non-powdered gloves reduced the "tactile sensation" necessary for some procedures.
It concluded: "Banning powdered glove products is not expected to impose any costs to society, but is expected to reduce the number of adverse events associated with using powdered gloves."