Farming minister David Heath announces up to £250,000 is available to reimburse farmers who lost sheep in the freak snow in March (2013).
The National Farmers' Union (NFU) has welcomed the news that Defra has made up to £250,000 available to UK farmers to reimburse them for the cost of removing sheep that died during the heavy snowfalls in March (2013).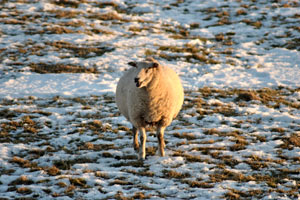 Farming minister David Heath made the announcement yesterday (April 18, 2013). Drifts more than 20 feet deep in parts of the Pennines, west Yorkshire, Cumbria, the Midlands and Wales caused many sheep to perish this winter.
Mr Heath said: "As I saw on my recent visit to Cumbria, the loss of sheep in recent snow has taken a terrible emotional and financial toll on farmers. We have been working with the National Fallen Stock Company to find the fairest way to help them meet the cost of removing their stock. I'm pleased to be able to announce this support today and call upon the public to lend their own support to our farmers by choosing British lamb."
The department had already permitted farmers to bury or burn dead livestock on site if the snow had made it difficult to get the bodies to a collection vehicle, while rules on driver hours had been relaxed so essential supplies of animal feed could be delivered.
NFU deputy president Meurig Raymond said: "This very welcome move by Defra will come as a huge relief to those farming families who have struggled with the worst spring snow in living memory and have since faced the very specific problem of the cost of removal of large numbers of dead animals.
"The NFU will now continue to work very closely with the Government on the detail of exactly how this money will be distributed."