A family of horse traders has been found guilty of animalneglect at their Buckinghamshire farm, in what the RSPCA claims to be one of its biggest ever investigations.
In a case that the charity called "animal neglect on a massive scale", James Gray and his son Jamie (James Junior) were today (May 8) found guilty of causing unnecessary suffering to 40 equines after a 12-week trial, brought by the RSPCA. Mr Gray's wife Julie and daughters Jodie and Cordelia were also found guilty of failing to meet the welfare needs of 114 animals.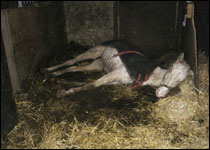 Bicester Magistrates Court heard how RSPCA inspectors discovered more than 100 horses, ponies and donkeys and the bodies of a further 32 equines at Spindle Farm near Amersham between January 4 and 9, 2008. All the defendants denied all counts of cruelty and neglect.
Officers from World Horse Welfare, Redwings Horse Sanctuary, vets and Thames Valley Police worked alongside the RSPCA in very difficult conditions to rescue the surviving animals from the scene.
Witnesses described how many of the animals had little food or dry bedding and were crammed into pens, ankle-deep in their own faeces. Other horses had simply been left to die where they fell, and decomposed surrounded by their companions. In one pen, the bodies of two horses were found with nine live horses.
Further carcases were found in the yard, others were discovered in the surrounding fields, some were burned on bonfires, and there was a pile of bones and a skull against an outbuilding. The horses living in the fields had very little grazing and the water they had was dirty.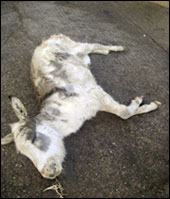 RSPCA inspector Kirsty Hampton said: "This case was distressing beyond measure. What we were confronted with on arrival at the farm was grotesque. To see so many animals in such awful condition was overwhelming and those that had survived were shown little care or consideration. Many horses and ponies had just been left to starve, and the smell of rotting flesh was overpowering."
In reaching the guilty verdict, District Judge Andrew Vickers said of Mr Gray and his son: "Their failure to feed appropriately, water, care and treat when [horses were] ill is evidenced by such instances as dragging a horse, kicking it whilst on the ground and leaving it tied up on a trailer on a bag of food when it was emaciated.
"The carcases were addressed by James Gray in evidence in a 'matter of fact' manner, as if he was dealing with a nuisance rather than a once living creature. They ought reasonably to have known that leaving the weak ones to go to the wall would cause suffering and it was easily preventable."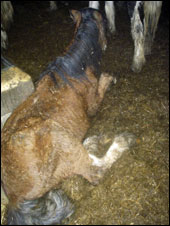 In respect of Julie Gray, Jodie Gray, and Cordelia Gray he said: "The involvement of all defendants, in some degree more than others, is a matter for sentence as guilt has been established."
Paul Jepson, chief executive and resident veterinary surgeon of TheHorse Trust, which took on a number of horses from Spindles Farm, said: "We are delighted with the verdict. [It] paves the way for future cases and will hopefully make people think again before keeping their animals in such conditions. We hope the family will be given a lifetime ban from owning horses to prevent this from happening again."
Sentencing is due to take place at 12pm on June 12 at Aylesbury Magistrates' Court.
All images courtesy of RSPCA