BVNA Congress saw the launch of the Feline Advisory Bureau's range of distance learning courses, aimed at veterinary nurses and those interested in furthering their knowledge of cat care and medicine in practice.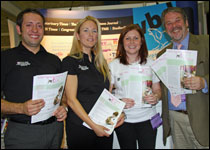 According to the Feline Advisory Bureau (FAB), the courses are the first distance learning courses to bring together all aspects of feline friendly nursing, from behaviour and handling, to recognition of pain and nutrition.
Three courses will be available from February 2010 and a fourth, more advanced, course from 2011. All courses will be available online and comprise six units to be completed over a period of nine months.
All four courses, designed in collaboration with Nestle Purina and VN Times, are accredited by the Centre of Applied Pet Ethology (COAPE) and can count towards an RVN's compulsory CPD requirement (number of hours per course is yet to be finalised).
The four levels of course are:
Foundation Award in Feline Friendly Nursing – Essential Cattitude (level: ANA)
Introduction: What is a cat? History of the cat
Normal development from kitten to pet cat
Influence of environment and lifestyle
Communication with the cat – cat to cat, cat to person
Lifestages, nutrition and resources
Breeds and basic care

Intermediate Award in Feline Friendly Nursing (level: training VN)
Essential Cattitude (can be omitted if Foundation level already completed)
Understanding the feline client + preventative healthcare + compliance
Recognising and alleviating the stresses and health risks of cats coming into practice
Handling, breeds, inherited disorders
The reproductive cat
Lifestyle issues
Advanced Award in Feline Friendly Nursing (level: qualified VN)
Essential Cattitude and understanding the feline client + compliance
WellCat principles
Cat Friendly Practice principles
Behaviour problems
Nutritional issues
Measurements and monitoring
*And coming in 2011*
Expert Award in Feline Friendly Nursing (degree-level VN and equivalent)
Essential Cattitude and understanding the feline client + compliance
Cat Friendly Practice + WellCat
Quality of life
Breeds, breeding issues, reproduction
Handling/care for specific procedures/disease control
Nursing consults
Each course costs £395, with a registration fee of £45. For more information, visit the FAB website www.fabcats.org