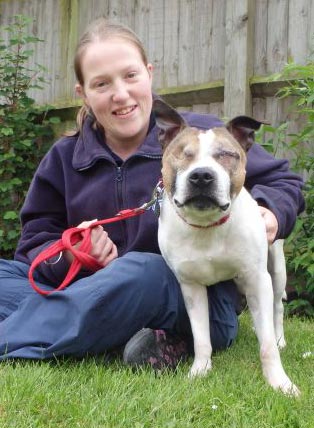 Animal charity staff are seeking a home for a dog that was left to suffer with a painful eye condition for more than five years.
Staffordshire bull terrier Pooch's former owner Trudy Oakley failed to seek medical treatment for a congenital condition.
Subsequently, when the 10-year-old dog arrived at the RSPCA Block Fen Animal Centre in Cambridgeshire, his eyeball looked ready to pop out.
Both eyes removed
Vets had to immediately remove the eye and began treatment for his other eye, but it wasn't enough to control the condition's severity and staff took the decision to remove it too.
Despite all he's been through, the charity said Pooch is still loving and affectionate towards people. Following months of treatment and care from RSPCA staff, he is responding well to treatment and ready to be rehomed.
To enquire about rehoming Pooch, telephone 0300 123 0726.