The importance of vaccinating herds against diseases which spreadquickly, such as porcine circovirus type 2 (PCV2), is even greater inharsh economic times, according to experts at the 2009 World Pork Expo in Des Moines, USA.
The risks were discussed during a Fort Dodge sponsored forum at the expo, which took place in June.
Joseph Connor, a leading swine veterinary consultant in the USA and president of Carthage Veterinary Service, said: "Maintaining herd health and providing optimum growth performance are the two critical success factors for pork farmers and the cost of a disease outbreak is often devastating, compared with that of a preventive health regime. Health may be the dagger to the heart of the industry and, with all the progress we've made with PCV2 and others, there is still a great deal of work to do."
Studies conducted by Dr Connor have confirmed a statistical difference between vaccinated and unvaccinated pig in terms of herd health, viremia and co-infections.
He said: "Pigs with PCV2 viremia are likely to face increased difficulty in controlling and eradicating PCVAD (porcine circovirus associated diseases). PCV2 infection can also compromise the immune system and increase the likelihood of infection of other infectious diseases, such as swine influenza virus (SIV), porcine reproductive and respiratory syndrome (PRRS) and Mycoplasma."
Commenting on the implications for Dr Connor's studies for pig farmers in Europe, Herve Le Galludec, poultry and swine business manager for Fort Dodge EMEA, said: "Pig farmers who had it tough before the current financial crisis are facing difficult times and have hard choices to make.
"Dr Connors' studies provide confirmation to farmers that withdrawing vaccination is a false economy. Not only does vaccination provide protection against PCV2, an extremely infectious and dangerous disease, but it also helps to optimise herd growth. We hope that these study findings will reassure farmers that effective preventive health is actually the cornerstone to a healthy and optimally profitable herd."
__________
PCV2 associated diseases were also the topic of conversation for 28 of Europe's leading experts at a forum in Rome (June 22-23) who gathered to discuss current and emerging challenges facing farmers and vets working in the European swine industry.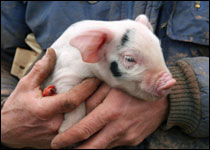 During plenary and workshop sessions at the event – also sponsored by Fort Dodge – they examined recent scientific findings and field experience. They also discussed how they could work together to improve European-wide knowledge of these potentially devastating diseases and to develop tools and other support measures to assist farmers in their management and control.
Key topics discussed during the workshops included: maternal antibodiesand their role in protecting or interfering with piglets' vaccination; the control of PCV2 and the influence of co-factors: the evolution of PCVAD field expression and experiences and recommendations for effective and efficient PCV vaccines programs.
Mr Le Galludec, said: "Tackling the spread of PCV2-associated diseases is one of most urgent challenges facing Europe's swine industry. Discussions at the forum showed that there is a great will among the industry's leaders to work together to make rapid progress in understanding and controlling these diseases."
Image ©istockphoto.com/meltonmedia
Image ©iStockphoto.com/johnmarquess