CEVA has launched a new vaccine against Mycoplasma hyopneumoniae to improve the welfare of European pigs.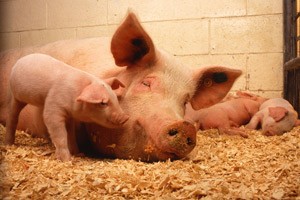 Called Hyogen, the vaccine uses a unique field relevant strain and novel adjuvant that can boost innate and adaptive immunity.
Hyogen provides improved protection against the respiratory infection caused by Mycoplasma hyopneumoniae bacteria.
The one shot application at weaning makes it easy to administer and as a killed bacterial vaccine combined with a potent adjuvant, it confers the longest protection of up to 26 weeks, throughout the entire fattening period.
Ceva began extensive research of a practical tool to support use of the vaccine with the launch of the Ceva Lung Programme in Asia two years ago and now in Europe.
Respiratory experts developed the programme, which was then simplified into practical guidelines and an iPad and Android app, to help evaluate the presence and impact of the main respiratory pathogens on farms and in the slaughterhouse. As a result, it is much easier to target vaccination according to individual herd requirements.
The launch coincides with a symposium that begins in Barcelona on September 25 bringing together swine experts from around the world to discuss the need for better preventative respiratory health on farms and present the scientific benefits of the new vaccine.
Stefano Gozio, head of Ceva's swine business, said: "We need to create partnerships with expert veterinarians if we are to achieve better preventative respiratory health on farms. This was the objective of our symposium; we believe that more sharing of knowledge between professionals – producers and veterinarians through tools such as the Ceva Lung programme is the future for our industry."