Equine vets and horse owners will have access to the latest research and resources on common emergency conditions in horses with the launch of a website.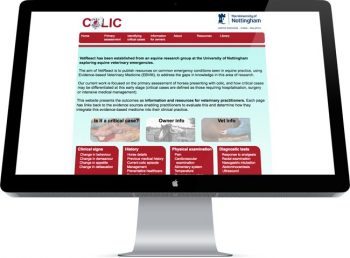 VetReact has been set up by an equine research group at The University of Nottingham School of Veterinary Medicine and Science. The team hopes the site will be the "go-to" resource for the latest evidence-based advice and information on clinical best practice in horse medicine.
Campaign
VetReact adds to the national campaign by the Nottingham vet school and British Horse Society – REACT Now to Beat Colic – which is helping horse owners spot the early signs of colic and seek early diagnosis and treatment.
Resources available on VetReact include information on:
the most common clinical signs of colic
the essential components of history-taking and physical examination
when different diagnostic tests should and shouldn't be used
how to differentiate critical cases on the first examination
The website places a strong emphasis on safety considerations and stresses the information offers "recommendations" not "rules", which should be considered and applied by practitioners in the context of each individual case.