BEVA has received a "highly commended" award for its contribution to antibiotic stewardship.
The association was the only organisation from the veterinary profession to be shortlisted and was presented with the accolade at the Antibiotic Guardian Awards in Birmingham on 12 May.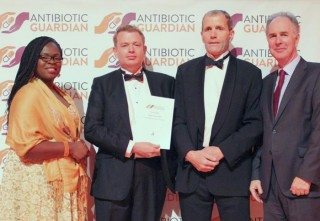 The awards were introduced this year by Public Health England to champion UK organisations and individuals demonstrating achievement in tackling antimicrobial resistance at a local, regional or national level.
Great achievement
BEVA launched its Protect ME antimicrobial campaign in 2012 to coincide with European Antimicrobial Awareness Day. The association has launched additional resources each year to facilitate compliance and educate the public about the importance of antimicrobial awareness.
Mark Bowen, president of BEVA and co-author of the Protect ME toolkit, said: "It is a great achievement for a veterinary organisation to be recognised alongside the human health sector, which invariably has significantly more resources to support antimicrobial stewardship."
Fantastic uptake
He said: "Protect ME has had a fantastic uptake from the equine profession and are proud of the impact it is having.
"BEVA is grateful to all who have contributed to its success – especially Wendy Furness and Jacky Paton of Scarsdale Veterinary Group in Derby, who trialled it prior to launch and adopted it fully within the practice."
The BEVA Protect ME toolkit is free to BEVA members and can be downloaded from www.beva.org.uk