The Kennel Club has announced that the Old English Sheepdog is on the verge of extinction after only 316 sheepdog puppies were registered so far this year. Find out why the native breed finds itself in the danger zone…
The Kennel Club has announced that the old English sheepdog could risk extinction.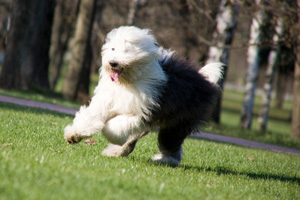 The club makes the announcement after it compared puppy registrations for this year so far. Only 316 English sheepdog puppies have been registered so far in 2012, compared to 28,787 labrador retrievers, 2,669 Chihuahuas and 5,496 pugs.
As a result, the English sheepdog has been placed on a specialist "At Watch" list for those breeds registering between 301 and 450 annual registrations. The club hopes this will "highlight the plight" of the breed before it gets to a "vulnerable level".
Bill Lambert, manager of The Kennel Club Assured Breeder Scheme, said: "The decline of the old English sheepdog can be partly explained by lifestyle changes as it needs a lot of grooming and exercise and so is not suitable for the fast paced urban lifestyles of many people.
"But it is also a lot to do with fashion. Despite the fact old English sheepdogs have good temperaments and can make fantastic family pets, their popularity is being eclipsed by more fashionable foreign breeds that can be much harder to train and care for.
"Of particular concern is the growth in popularity of the Siberian husky, a beautiful dog which is notoriously willful and generally unsuitable for urban life."
Other vulnerable native breeds, said the club, include the Clumber spaniel, the otterhound, the foxhound and Cesky terrier. Meanwhile, it says 'handbag' dogs such as the Chihuahua and pug "continue to thrive".