Staff and animals at Whipsnade Zoo enjoyed a royal visit when the Queen attended to officially open the new Centre for Elephant Care.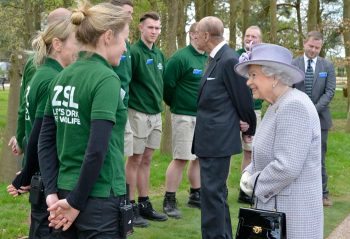 The Queen, who is Patron of the Zoological Society London that runs Whipsnade, unveiled a plaque commemorating the event before having a private tour of the centre, which cost £2 million to build.
Her majesty and the Duke of Edinburgh then got hands on by feeding bananas to Donna the elephant before meeting assistant curator of elephants Lee Sambrook, watching an Asian elephant having a pedicure, and speaking to the zoo's vets and keepers.
New home
The custom-designed centre, set in 30 acres of paddocks, is the new home for the zoo's herd of nine Asian elephants.
Highlighting ZSL Whipsnade Zoo's elephant-expertise, the centre provides more than 700m² of indoor space, and is fitted out with a host of elephant-friendly features, including one metre-deep soft sand flooring to provide maximum comfort and dimming lights to mimic night-time.
Interactive displays will allow zoo visitors to try their hand at a jumbo pedicure as they practise on a life-size model elephant foot, showcasing just some of the one-on-one care given to the animals at Whipsnade.
Endangered
Asian elephants are classified as endangered on the International Union for Conservation of Nature Red List of Threatened Species due to habitat loss, human conflict and poaching.
Visitors to ZSL Whipsnade Zoo will be able to view the herd in their new home when the centre opens on 12 April.