The winner of the Vet Futures essay competition was announced at the launch of the Vet Futures report at the London Vet Show on 20 November.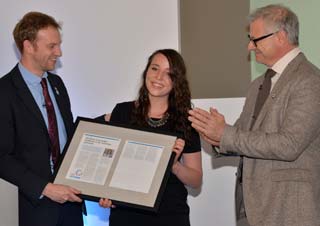 Fourth-year University of Edinburgh veterinary student Jennifer Rowland won the competition with her piece on wearable health care technology for animals.
Ms Rowland was the only student to enter the Vet Futures competition, a joint RCVS and BVA initiative that aims to help the veterinary profession prepare for, and shape, its future.
Revolutionising medical care
In her essay, Ms Rowland said: "Wearable technology that is designed to organise our daily lives, monitor our body functions and revolutionise our medical care already exists and is likely to become an integral part of medical and veterinary sciences."
The benefits of this, she suggests, will include:
instant assessment of basic health parameters, freeing up more time for diagnosis and treatment
less invasive gathering of data
access to a more detailed history
recording accurate baselines of, for example, temperature and heart rate, for each patient
the ability to detect the onset of disease and
an accurate way of monitoring response to long-term medication
Ms Rowland concludes her 1,000-word essay by saying: "The 'art' of veterinary medicine is unlikely to be radicalised in the next 15 years, but the advancement of wearable day-to-day health monitors is one way the 'science' will change dramatically."
Clear winner
RCVS president Bradley Viner said: "Jennifer's essay was a clear winner and it's very fitting a competition that challenged people to consider the future of the profession should have been won by someone who represents that very future."
Topics covered by other entrants included mental health and well-being, a National Animal Health Service (or, in another essay, a Veterinary Health Service), a future where all equine practitioners wear a helmet while examining horses to reduce accidents, and a system to support pet ownership for older people.