Eight per cent of dairy cows were reported lame in a new survey of dairy farmers by Pfizer Animal Health. The three main types of lameness were digital dermatitis, sole ulcers and injury.
Successful measures for reducing lameness identified by farmers taking part were routine foot-bathing and foot trimming, improved cubicles and walking surfaces, better slurry clearance, and earlier treatment of lame cows.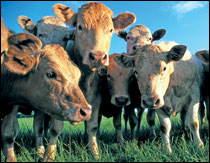 Of these, Pfizer vet Dave Gilbert singles out immediate investigation of any cow not walking properly, then appropriate and prompt treatment, as among the most effective changes available to many farmers.
He said: "When you spot a case of mastitis, you don't wait a day or two to see what happens. But with lameness, immediate intervention isn't universally habitual, even though delay will probably allow the case to get worse more often than self-cure."
Among preventive measures mentioned by farmers in the survey, 48 per cent of herds were walked through a medicated footbath at least once a fortnight.
When treatment was required, a nil-milk-withhold injectable antibiotic based on ceftiofur hydrochloride (trade name Excenel RTU) was most mentioned by 45 per cent of farmers, followed by other injectable antibiotics (e.g. tylosin, penicillin/streptomycin combinations), all with a milk-withhold requirement.
The survey involved 490 herds with an average of 176 cows producing 7,479 litres per cow at 4.23 per cent butterfat and 3.35 per cent protein. For farmers wanting to make a fresh start in tackling lameness, Mr Gilbert suggests that a conversation with the farm's regular veterinary surgeon is a sensible first step. Also for some sound practical guidelines, he says the University of Bristol has created the website www.cattle-lameness.org.uk