Two vets are going the extra mile – and then some – in aid of animal welfare by running 10 marathons in 10 consecutive days.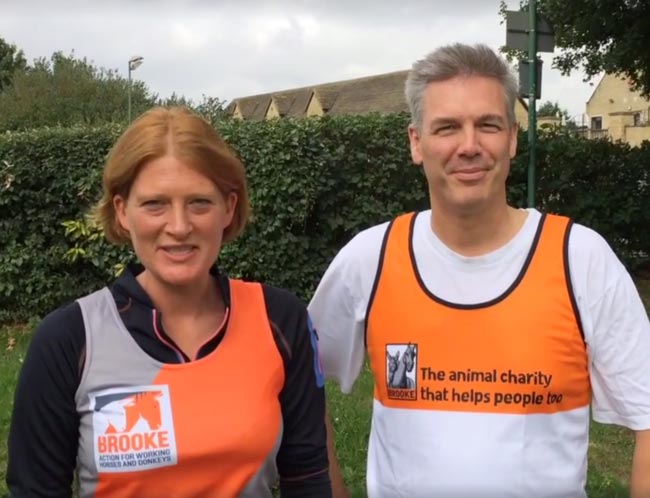 Brian Faulkner and Carolyne Crowe will embark on the punishing 262-mile run around the UK and Ireland in April, culminating with the London Marathon on 23 April. They hope to raise £10,000 for international animal welfare charity Brooke.
'Big project'
Mr Faulkner, who runs Saxon Vets in Suffolk and The Colourful Consultancy, and equine vet Mrs Crowe, a veterinary performance coach, mentor and trainer and honorary lecturer at the University of Liverpool, will start their run in Scotland on 14 April.
Mr Faulkner said: "It's a pretty big project, especially for two people who only ran their first marathons in 2016. The training is coming on pretty well – but there aren't enough hours in the day.
"The reaction so far has been interesting. Most people think we are mad, some say we're 'brave' and the odd few say they have been inspired.
"The support and the donations so far has been amazing. Petplan is our core sponsor and we would like to thank them as well as our other logistical supporters, VetDynamics, IVC, Denplan, Eightlegal, BCF Technology and Vetshare."
Equine dedication
Marathon schedule in full is:
14 April – John O'Groats
15 April – Orkney
16 April – Loch Ness
17 April – Edinburgh
18 April – Cookstown
19 April – County Sligo
20 April – Gloucestershire
21 April – Land's End
22 April – Thames
23 April – London Marathon
The charity Brooke is dedicated to improving the lives of working horses, donkeys and mules in Africa, Asia, Latin America and the Middle East – and the lives of the people who depend on those equines.