Redwings Horse Sanctuary is appealing for donations to help provide ongoing care for a foal found suffering with a nasty, untreated wound on her left hind leg.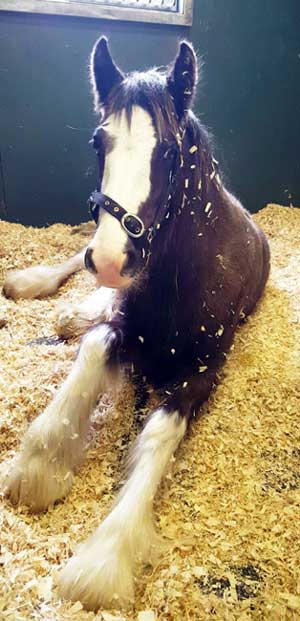 The weanling, called Violet, was discovered with her mother and a young sibling in Essex on 27 January.
Fly grazing
Redwings' senior field officer Jo Franklin received a request for help from the attending RSPCA inspector and House and Jackson vet Ana Pereira to round up all three horses, as they were suspected of being fly-grazed (grazed on land without the landowner's permission).
Jo said: "It was evident the foal's injury needed urgent veterinary attention, so ensuring her safety and causing as little distress as possible to all three while rounded up was paramount. Ana managed to catch the mare and her foals happily followed into the trailer, ready to be examined".
An owner was identified for the horses, but agreed to relinquish ownership of Violet as her injury required ongoing veterinary treatment they could not afford to provide. At approximately six months old, Violet was old enough to be weaned from her mother, so was taken to House and Jackson's equine clinic for immediate veterinary care.
Pleasing prognosis
Redwings chief executive Lynn Cutress said: "We're very pleased the prognosis for Violet's recovery is good and we're hopeful she'll make a full recovery with no permanent damage caused to her leg.
"Violet has received wonderful care from the team at House and Jackson and we are delighted to have welcomed her permanently into the Redwings family at our Ada Cole Visitor Centre near Harlow in Essex."
Violet's initial veterinary treatment and rescue has cost more than £1,000 – including emergency treatment, x-rays, antibiotics and nursing – and she will continue to receive ongoing care from Redwings' in-house veterinary team.
Support needed
However, Lynn said: "The rescue of this beautiful foal, her recovery and her bright future, reminds us all at Redwings exactly why we exist as a charity. But, of course, we can only exist and be there to help horses in need like Violet thanks to our fantastic supporters.
"We've all fallen in love with Violet and we're looking forward to seeing her enjoy a happy life with fellow youngsters at the Sanctuary – and with the hope she may be able to have a second chance at a happy family home outside Redwings through our rehoming programme."
To donate just  £6 towards Violet's ongoing care – which could fund a VN to change the dressings on her injured leg – text "HORS30 £6" to 70070 or visit www.redwings.org.uk/donate