On "Blue Monday" – considered to be the most depressing day of the year for humans thanks to cold weather, post-Christmas blues and money woes – spare a thought for our canine friends, says Kennel Club.
On "Blue Monday'" – considered to be the most depressing day of the year thanks to a combination of cold weather, failed new year resolutions, money woes and post-Christmas blues – the Kennel Club (KC) has insisted that the nation's dogs are the true victims of January-related misery.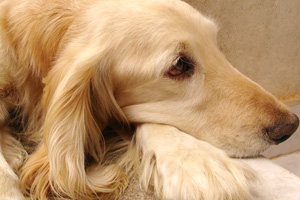 According to the club, 3,500 dogs in the UK will require help from KC breed rescue organisations this month. However, surprisingly, only 1.5% of these dogs are unwanted Christmas presents. Most, the KC says, are the innocent and often forgotten victims of the January blues and relationship breakups, with divorce by far being the the most common reason for people rehoming their dogs with a Kennel Club Breed Rescue organisation.
Carolyne Poulton from Labrador Retriever Rescue Scotland, said: "On January 3 each year, I find the number of dogs needing our help starts to increase. I have found that over the holiday period, people either take time to make the decision to divorce or part company or find that because of the holiday period they can't stand being in each other's company any longer. Break-ups unfortunately mean that individuals may have to move in to a rented house where dogs are often not accepted."
The KC is therefore asking potential pet owners to really think whether a dog is the best pet for them.
Caroline Kisko, Kennel Club secretary, said: "People purchasing a dog while they are in an unstable relationship should ask themselves, 'what would happen if we broke up?' If the answer is give up the dog, then please put off getting a dog until you are in a more secure situation."
If a dog is still on the cards, Ms Kisko recommends seeking expert advice.
"Breed rescue is a fantastic place to consider when looking for a dog," she said. "The expert staff and volunteers will often know the full history of the dogs in their care and provide you with invaluable knowledge on the breed and tips for caring for individual dogs."