When it comes to raising awareness for charity, cycling 50 miles along canal towpaths dressed as dogs is a sure-fire way to do it.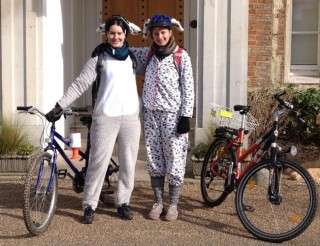 This is what RVC final year students Lily Wilson and Lila Heinrich are doing to raise funds and awareness for Indian charity Help In Suffering (HIS), which provides veterinary care to the local dog population in and around the city of Jaipur.
En route
The daring duo set off from Hertford Castle on 28 February and will complete part two of the challenge on 6 March when they reach the RVC Camden campus, having spread the word about their fundraising endeavours en-route.
"To make this more of a challenge and to draw more attention to our fundraising efforts, we will be doing the cycle ride in fancy dress," Ms Wilson told Veterinary Times before the challenge.
Describing the reasons for raising funds for the charity, Ms Wilson said: "We want to raise some money for the clinic to support the work they do. We especially want to promote their rabies prevention work because rabies still kills over 60,000 people every year and 99% of human cases are caused by dog bites."
Funny looks
The students will travel to Jaipur later in March and will spend a month working with the charity as part of their final placement.
After the first phase of the event was completed, the duo left a message on their JustGiving page saying: "We got some delighted and confused looks as we cycled along in our dog costumes, ears flapping in the breeze. The route is beautiful and very peaceful ­– a great way to see plenty of birds and [get] a big dose of fresh air."
The dogged duo is hoping to raise £750 for the charity, which also runs projects with working equids, livestock, camels and wildlife, improving health and welfare as well as helping their owners who are often poor and rely heavily on them for their livelihoods.