New research by Ceva Animal Health shows that more than a quarter of dogs owners are unaware dogs should be restrained in cars.
Research by Ceva Animal Health has revealed more than a quarter of owners are unaware the Highway Code states dogs and other animals should be suitably restrained during car journeys.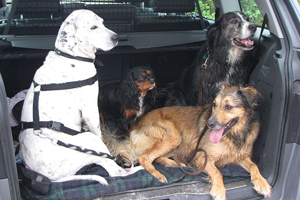 In total, 27% of those who responded to the survey admitted they were unaware of the recommendation, while nearly a fifth (19%) of those questioned said they did not restrain their dog in the car.
Despite 90% of pet owners stating their dog travels well in the car, 40% of dogs display stress-related behaviours, including:
panting (10%)
salivating excessively (8%)
vomiting (7%)
barking (5%)
whining (5%)
trembling (3%)
urinating/defaecating (1%)
attempting to escape (1%)
A quarter of dog owners also admitted to doing nothing to alleviate their pet's travel fears.
One way to reduce the level of stress a dog feels when travelling is to "desensitise" it to the car. Ceva, the company that makes Adaptil, recommends dogs should first learn to sit when the car is stationary and associate it with treats and play.
The next step is to encourage a dog to sit in the car with the engine running as this can move on to going out on short trips, with each trip getting progressively longer.
At each stage a dog should be rewarded with treats or play for remaining calm. A dog should never be punished for showing signs of fear or stress; instead dog owners should stop the activity immediately and allow the dog to calm down before resuming any further desensitisation.
Emma Jackson, Adaptil product manager at Ceva, said: "There is no law that stipulates a dog or other animals must be restrained while travelling in a vehicle, however, The Highway Code offers guidance on simple precautions to suitably restrain a pet so it cannot distract you while you are driving or cause injuries if you brake suddenly. 
"These include using a seat belt harness, boot guard, pet carrier or dog cage. Using these, in conjunction with a desensitisation programme, will ensure that both pets and owners are safe and happy when travelling."
For further hints and tips on travelling with a dog visit, www.adaptil.co.uk