Peter Jones' speech at the association's annual dinner in Northern Ireland saw him call for active promotion of new welfare codes and highlight the need for adequate legal and financial support for Animal Health and Welfare NI.
BVA president Peter Jones has called on the Department of Agriculture and Rural Development to ensure legal and financial support for Animal Health and Welfare Northern Ireland is forthcoming.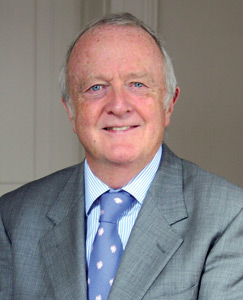 Speaking at the annual BVA Northern Ireland dinner, Mr Jones also urged the Government to take action to promote the new welfare codes for companion and large animals under the Welfare of Animals Act to the public.
Farmers were also warned to remain vigilant following the emergence of Schmallenberg virus (SBV) last month.
Mr Jones said: "In September, we warmly welcomed the formation of Animal Health and Welfare NI and praised industry for taking the lead in this initiative to deal systematically with production animal diseases.
"We were pleased to note the minister's strong support for the initiative when it was launched and we hope that the financial and legal support it needs from the department will soon be forthcoming.
"Tackling two endemic diseases, such as BVD and Johne's disease, at the same time is an ambitious project to say the least."
On last month's news that Schmallenberg virus has reached Northern Ireland, Mr Jones said: "While this news was not surprising we know that it will have come as a blow to local farmers, as it has done to each of the farming communities it has hit.
"We are constantly learning more about the disease and it is essential vets and farmers remain vigilant and report any suspicious cases in order to help us build a more complete picture. What we do know is that Schmallenberg has an incredible capacity to spread, moving a long way and over bodies of water in a relatively short period of time."
Touching on the Welfare of Animals Act, Mr Jones added: "The five welfare needs enshrined in the act, and explained through the codes, are vitally important for every animal keeper's understanding of how to provide the right level of care. But there is a significant challenge in educating the animal-owning public.
"A recent report by PDSA revealed only one in three pet owners in the UK were familiar with the Welfare of Animals Act (and its equivalents in Great Britain). That should be of real concern to us all.
"The content of the welfare codes needs to reach the general public if it is to have any real impact. We were, therefore, disappointed to note there has been very little fanfare in terms of launching the codes and we would urge the department to think again about how to publicise the important messages contained in them."