Veterinary governing bodies have responded with dismay to Defra's announcement it will not act in law to protect the title "veterinary nurse", but state it is not the end of the campaign.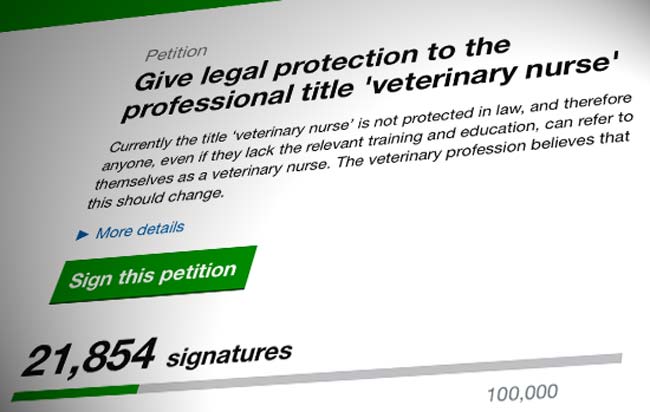 The RCVS launched a petition in August 2015, asking the Government to protect the title "veterinary nurse" by legally restricting its use to RVNs, therefore making it an offence for unqualified and unregistered laypeople to refer to themselves as a veterinary nurse.
The petition has since received more than 21,000 signatures. However, in response, Defra officials announced his weekend that they will not recommend Parliament give legal protection to the title.
No surprise
Responding to the Defra statement, BVA president Sean Wensley said: "Veterinary nurses are an essential part of the veterinary team and deserve full recognition for their roles. The VN Title campaign has received strong support across the sector and with MPs, so it is disappointing Defra has decided not to recommend parliament give legal protection to the hard-earned title.
"Given the current Government's deregulatory agenda, this response does not come as a surprise, nor does it signal the end of the campaign.
"Defra have stated that if this petition reaches 100,000 signatures, the Petitions Committee will consider it for a debate. We, therefore, ask anyone who supports the campaign, but has not yet signed the online petition to do so now.
"In the meantime, BVA and BVNA will continue to work with RCVS on the VN Futures project, taking a long-term view on the role of veterinary nurses and seeking to prepare for their future within the profession."
Emotions overlooked
BVNA president Sam Morgan said: "The BVNA are very disappointed to read the Government's response.
"We feel they have overlooked the emotions of the British public towards animal welfare and maintenance of trust within the veterinary profession. With no restriction on the use of the title, it is confusing for the general public and the veterinary profession.
"We hope this response increases public awareness of the issues faced. As the representative body for veterinary nurses, BVNA will continue to work alongside the RCVS and BVA to raise awareness of this campaign and to encourage anyone who is interested to sign the petition."