A veterinary team pooled its expertise and honed its detective skills to solve the mystery behind a dog's breathing and vomiting problems.
Small animal medicine specialist Isuru Gajanayake was the first vet to examine two-year-old French bulldog Pacha.
Owner Jade Norris took the dog to Willows Veterinary Centre and Referral Service in Solihull, after six veterinary appointments in one week still left her in the dark as to what the problem was.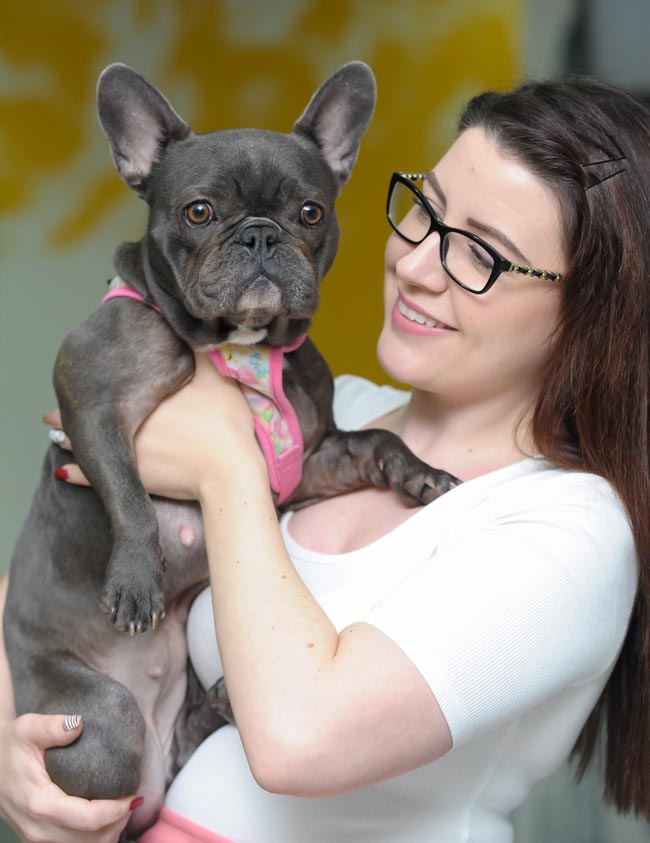 Diagnosis
Dr Gajanayake diagnosed inflammatory bowel disease (IBD) and a hiatal hernia, and recommended Pacha be examined by his colleague, specialist soft tissue surgeon Chris Shales. He concluded the dog needed to be treated for brachycephalic obstructive airway syndrome (BOAS) to try to improve her breathing and tendency to regurgitate.
BOAS is commonly associated with breeds such as bulldogs, pugs and shih-tzus, and causes problems including severe breathing difficulty and poor tolerance to exercise. It can also contribute to uncomfortable gastric reflux caused by hiatal hernia.
Dr Shales said: "Pacha had very noisy breathing, which is relatively common in bulldogs and can progress fairly quickly to an irreversible, life-threatening collapse of the voice box.
"Often, the reduced effort needed to breathe following surgery can reduce signs caused by the hiatal hernia and prevent the need for additional surgery.
"With Pacha, we shortened her palate, removed abnormal tissue from within her voice box and widened her nostrils to help her breathing and reduce the chest cavity effort."
Recurring problem
Dr Shales added: "There was a nice improvement after the operation in Pacha's regurgitation and her breathing was much easier. However, six months later, she once again started bringing up food and water, so Jade brought her back to Willows, where Isuru and I spent quite a long time discussing whether this reflected a deterioration of her IBD or continued problems from her hiatal hernia."
They decided to perform hiatal hernia surgery, which involved tightening a loose valve in the oesophagus. The surgery was performed in September and Pacha had, according to Dr Shales, responded extremely well.
He added: "It is always fantastic to work on a case alongside Isuru, and Pacha's situation demonstrated the benefit of medicine and surgery coming together in quite a complex situation."
Miss Norris was delighted with the improvement in Pacha's health and said she couldn't thank the team enough for what they did.