Changes to passports and a "reinvigorated" central database of all horses in the UK could be on the way after DEFRA meets with the Equine Sector Council for Health and Welfare.
Representatives from across the horse sector have welcomed a commitment from DEFRA on measures to help protect the food chain and provide greater protection for horses.
The Equine Sector Council for Health and Welfare attended a meeting on February 21, 2013, called by environment secretary Owen Paterson, during which it agreed on the need to overhaul the system for equine identification, to take steps to restrict unnecessary movements of horses across borders and improve traceability in the light of the horse meat crisis.
DEFRA minister Lord de Mauley and other Government officials were also present at the 90-minute meeting where an overhaul of the nation's horse passport system was agreed to ensure that the rising number of horses slaughtered in the UK for human consumption are safe to eat.
Jeanette Allen, chair of the Equine Sector Council for Health and Welfare steering group, said: "We are very encouraged that DEFRA have recognised the inherent weaknesses of the current passport system and by their open-minded approach to exploring practical solutions."
"We need to seize this moment to implement radical changes to the whole system of equine identification in the UK that is both proportionate and easy to enforce."
Under EU law all horses must be issued with passports that record whether they have received medication that would make them unsafe to eat. However, there is mounting evidence that the UK's current passport system, which has more than 75 authorised issuing organisations providing varying standards of documentation, is open to fraud and abuse.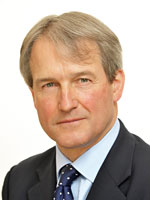 Vet David Mountford said: "For the system to work, it must have the understanding and confidence of horse owners, veterinarians and the general public. We need to change the system, but we also need to re-establish its integrity with greater compliance and appropriate enforcement."
As there is little scope to change the EU Regulation requiring horse passports soon, all parties agreed the focus must be on changes to its implementation to deliver the widest possible benefit to the equine sector. This will require fundamental behaviour change among the country's 500,000 horse owners as well as for local authorities, vets and passport issuing organisations (PIOs). 
It was agreed to jointly develop proposals over the next six months for rapid implementation. A reinvigorated central database of all horses in the UK was also agreed as a necessity for any effective system of horse identification to work.
In a further development, Mr Paterson agreed to ministerial support for negotiations to amend the Tripartite Agreement, which permits the free movement of horses without health certification between the UK, Ireland and France. 
Since the agreement, which originally applied only to sport horses, was extended to cover all horses in 2005, movements of lower value horses and ponies between the three countries has increased. This has created a number of welfare problems, increased the risk of infectious disease and appeared to make horse trading an attractive cover for criminal activity.
The sector council had been pressing for the agreement to revert to its original scope to apply only to racing, Thoroughbred breeding and elite sport horses – a position the Government supports.